Get to know Dr. Pouraslani
Image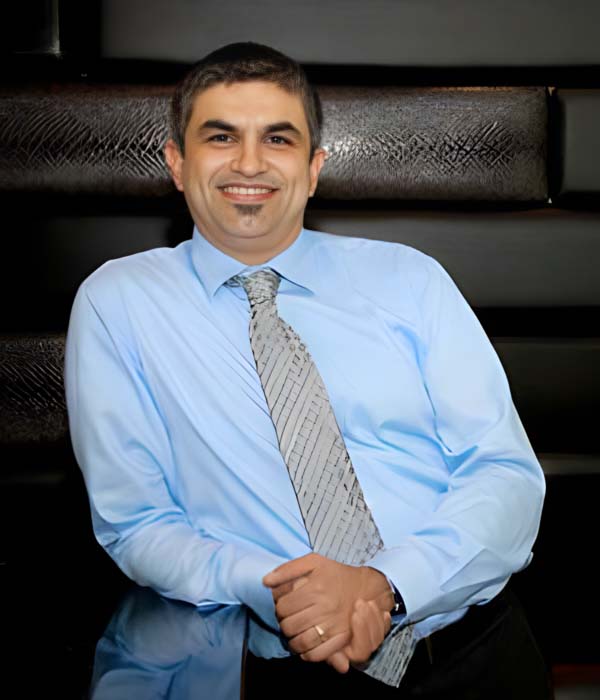 Dr. Kamshad Pouraslani
Dr. Kamshad Pouraslani is passionate about changing the world, one smile at a time. With many years of experience and a deep dedication to the dental profession, he combines dental technology, skill, and social responsibility to provide exceptional dental care for his patients. He treats every patient with the utmost respect and creates unique treatment options to provide the best care for each patient's individual needs.
Dr. Pouraslani graduated from Shahid Beheshti Dental school in Tehran, Iran, in 1994. After graduating, he started a private practice in Tehran. He also began providing forensic dentistry services and worked with the World Health Organization (WHO) to improve oral health in rural areas of Iran. Later, he moved to Canada, where he graduated from the UBC School of Dentistry in 2004.
He has taken specialized training in fields such as implant dentistry (Straumann), Botox cosmetic, Invisalign treatment, and conscious sedation. He's an active member of several study clubs in Vancouver and takes yearly courses to keep himself updated on advances in dentistry.
In his free time, Dr. Pouraslani loves to spend time with his wife and two boys. He runs half marathons as a challenge, and if he finds the time, he enjoys riding backcountry on his enduro motorcycle.
Dr. Pouraslani takes pride in maintaining an honest, eco-friendly, and modern dental practice. He has two offices, Urban Dental Clinic and Capilano Mall Dental Centre in North Shore.
Dental Professionals
Our team of hygienists and dental assistants provide preventative dentistry services and assist in patient care. They share a desire to provide the best service possible to their patients.
Office Staff
Our friendly front desk team can help you book appointments, understand your dental insurance and treatment plan, and anything else you might need. Please don't hesitate to ask any team member if you require assistance.